In here is where we all introduce ourselves. Say who we are, what we collect, and perhaps even why we collect what we do. Kicking it all off, well, i'm the boss, and I collect model buses and cars, plus a few vans. Got started many, many moons ago, and it led me to work in the trade for nigh on 10 years.

Mainly collect Vanguards cars now, and 2011 will see a few additions to the 'fleet'
I collect 1950s/60s British Cars, vans, trucks and buses in 1:43 & 1:50 scale. I look forward to shearing photos of my models and discussing there various merits with others.

Cheers,

Kristian.

Last edited by keb1 on Mon Jan 17, 2011 9:08 am; edited 1 time in total



Posts

: 132


Join date

: 2011-01-17



Hiya mate. Last year I picked up an Altaya BMC J4 van in BMC service (French) livery. Has the Union Flag on the roof, and is a corking little model in 1/43. On a plastic plynth too. being the resourceful bloke I am, I took the beast apart (using special screwdrivers due to the fancy screws Altaya use), and converted said van to right hand drive. The interior moulding had holes for the steering column, gearstick and handbrake already, so was a simple 5 minute job of swapping them over. i then made period number plates UK style for it.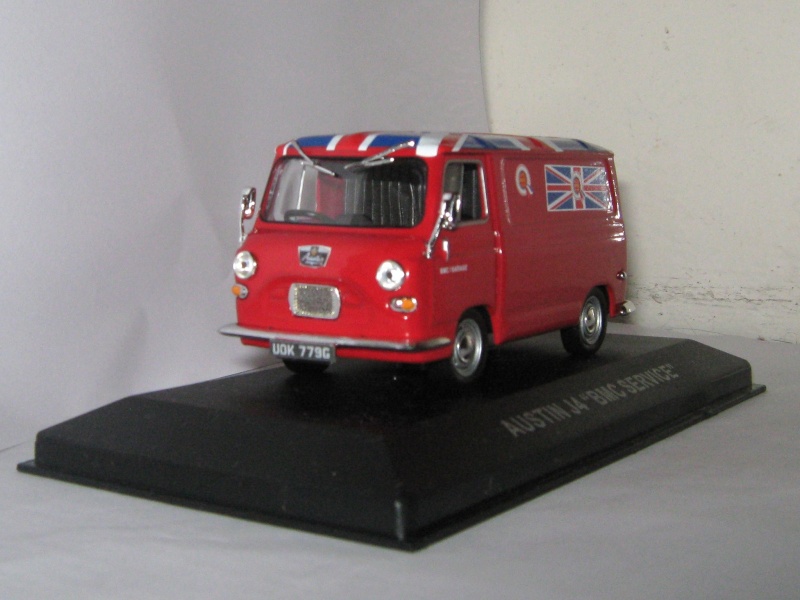 Hi Marty,
Looks great. I have quite a few of the French Altaya collection (went a bit mad on them when they were cheap

) and they are really good models. However, If you look carefully, most of them are IXO models and IXOs for £3.99 are a real bargain.
Will start posting shots asap.
Cheers,
Kris.



Posts

: 132


Join date

: 2011-01-17



Welcome Aboard Kris. I have posted an Altaya thread in the misc manufacturers, and put a photo of my Horizon & Seat 124 plods.
Hi Paul here
My interests are two-fold, 1:50 scale heritage commercials with particular emphasis on models of real-life preserved lorries, and secondly, I'm slowly getting the Universal Hobbies 1:43 tractors of the world on a partworks subscription.
Regards
Paul



Posts

: 12


Join date

: 2011-01-17


Location

: Wisbech, Cambs



Hi Paul, and welcome aboard. Have you seen the new range of old 1/50 scale trucks being sold by Digbys? Serious bits of kit, and not that cheap, but worth it I think. Feel free to post what you have in the relevant topics... Photos are appreciated

Is that the british Transport Classics range - Jeffrey's 0-type Bedford & Compton's Commer? Haven't seen them in the flesh yet the but the article in diecast Collector a month or so back looked interesting. Just hope they're "in scale" to the Corgi's that make up the bulk of my stuff.
Paul



Posts

: 12


Join date

: 2011-01-17


Location

: Wisbech, Cambs



They are the ones Paul. Look pretty spiffy, but not my cup o char...Digby's do go to some of the bigger toy fairs I believe, so you never know, you might even see them in the 'flesh' at your local swapmeet


---
Permissions in this forum:
You
cannot
reply to topics in this forum